Mail 3 - Another Girl Turns 10
03.29.2021
Hey,
Greetings from the slowly thawing Canadian Spring. The rumble of sound systems and strobing lights still feel somewhat distant from here, but the weather gets (slightly) better every day, and it just feels like the worst is (hopefully) behind us.

It's been just over a year since most of us attended or performed at a real live event, and though I remain shaken up by the circumstances, it's also been a year that has reaffirmed my love and passion for music, as well as the cultural events and spaces that allowed people to come together. I feel more connected than ever to the art and communities that I am so grateful to be a part of and in some way contribute to.

As the months of lockdown have piled on, time has taken on an elastic quality. Weirdly similar to month-long arduous tours, which felt like they were simultaneously compressed into one long rambunctious weekend… while also taking on the form of a daunting mountain in your life once you got home on the other side. Somehow further away from your life and yourself than you'd ever been. There's been a lot of introspection and thinking back over the past year. However, the frustration of not being able to perform is constantly dwarfed by the gratitude I feel to have ever been able to do so at all.
This month marks the 10th anniversary of the release of Another Girl. 10 Years. A Decade. Dix ans. 10. Ten.
TEN!Ten years ago today, I was a local DJ throwing a great monthly party with my friends Seb Diamond and Brendon DuVall. We'd book artists like Floating Points, Azari & III, Hunee and so on. I was making more and more "dance music", or at least my take on it, and trying the tracks out during our support slots at these parties and various regular after hours spots. I remember the first time I played a demo version of Another Girl out.

We had the closing hour at Velvet, the place we regularly put Night Trackin' on at. It was around 2:47AM, the walls were SWEATY. We had a great crowd at the time. You might catch a glimpse of Cary Tauben's accessories in the corner but otherwise just a throbbing, smoked out mess. Brendon cut thru the fog and the seemingly tangible sweat hanging in the air, looked over as the record started building to ask me "uhhh… what's this one? It FELT different in that moment. Far different from when I had been working on it in my bedroom. I knew I had one. That alchemy that happens in your brain when you get to play your new music to friends and strangers REALLY loud, sequenced between carefully chosen songs that give that new work a bit of context, is truly one of the things I miss the most of the parts of my job I can't do right now.

LuckyMe releasing the song and the ensuing tour at venues like Berghain, Plastic People, Golden Pudel, Glasgow School of Art, Trouw, Wire allowed me to quit my job, since it felt at that point like I could "probably do this for a year or so" and still make rent.
There were moments on that tour that have stayed with me, like tuning into Pete Tong while in the taxi on the way to Berghain to hear him play the song for the first time. Downloading the stems to Radiohead's recent single "Lotus Flower", which they had asked me

to remix

after hearing Another Girl. Unzipping the files to get started on the remix while on a train to a show in Manchester and hearing the isolated studio elements to a Radiohead recording. The hi hats. Johnny's guitar parts… Thom's acapella vocal part floating in my headphones while the English countryside rushed past. Lowering the volume faders on the mixer in Glasgow to have a full crowd, matching the volume of the system, singing the layered looped vocals from the record I had made a few months prior on a Juno-60 on Clark Street in Montreal. Completely overwhelming and euphoric.

I've made friends that feel like family, and had the honour and the pleasure to do what I love for a living for ten years now. If you're reading this, you're part of the reason I've been able to continue to do so, and I'm looking forward to making new moments with you in the future.

As the king Omar S would say, "Thank You For Letting Me Be Myself"
Reference Library
Another Girl wasn't made in a vacuum.Here's some music from around that time that I was listening to as well as playing out, both from peers and forebearers:



---

As always,

My rolling Spotify playlist is updated with a ton of current favourites new and old, so you can check that out as well here.



I released a new song,

'Promise'

last month. It's an optimistic gesture, full of lightness and hope. It was launched with its publishing tied to a non-fungible token on Foundation a month ago… the ensuing craziness has been… kind of insane. Shawn Reynaldo hit me up for a lengthy, candid interview about all this madness for his lovely newsletter

First Floor

. He was kind enough to let us reprint it on the LuckyMe website. You can

read about that here

.

Most recently, I was asked by Unidisc to remix Lime's seminal Montreal Hi-NRG Disco hit

Babe We're Gonna Love Tonight

for the label's 40th anniversary.

Hang in there.
X


---
Mail 2 - Chemz, Claire, the rest
01.11.2021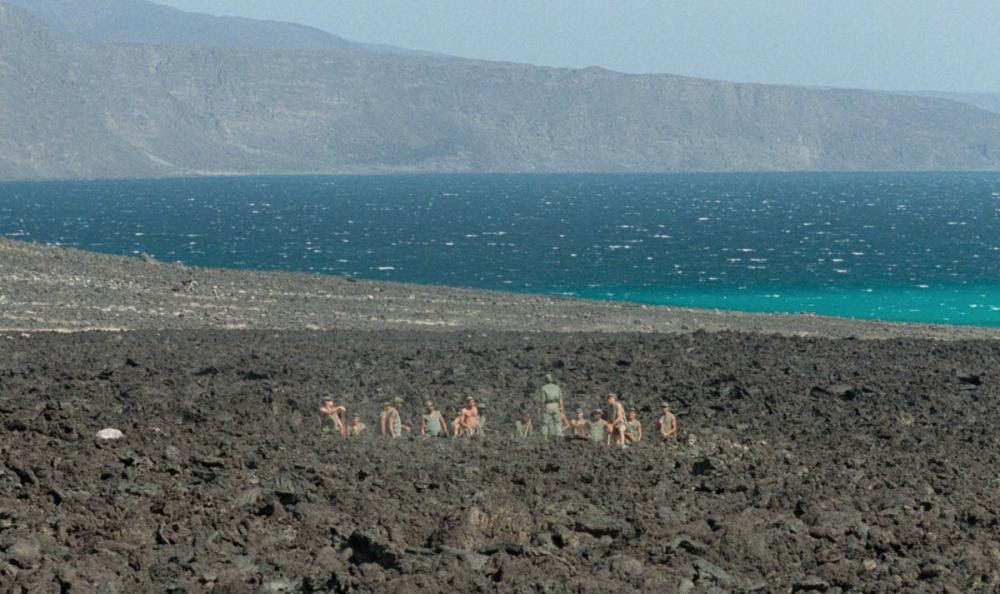 A couple weeks ago, Burial came back, as he usually does around the winter solstice.

Chemz

is a 12-minute long frantically ravy cut that has the manic energy of someone going through a breakup smiling at you at the bar with veins popping in their forehead telling you how much fun they're having while chugging tequila sodas. His music used to take the form of half remembered tracks from pirate radio and solo bus rides but now have grown to feel like fully formed odysseys that convey the movements of full DJ sets that you might find on a cassette tape.As with every new Burial release, I'm sent into a spiral of revisiting some of my favourite releases of his over a week or so. And so I did again, going through the sublime

Rival Dealer EP, Street Halo, Stolen Dog, Kindred, Near Dark

and obviously…

In McDonalds

.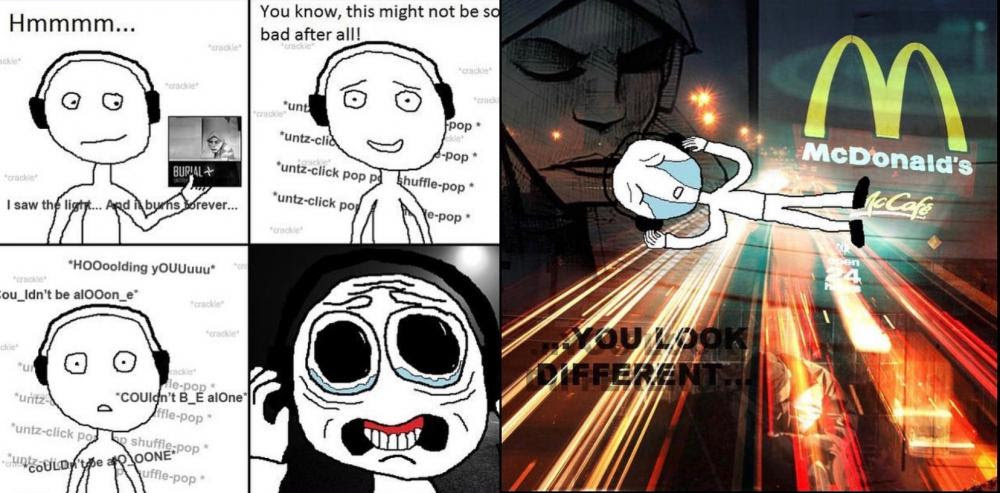 What I came away with is the sense that the thru-line in all his work is a feeling of a deep empathy, and this was why I still feel so connected to all the output.When I was 16/17 I got a summer internship at the Ninja Tune Montreal office mailing out CD promos to journalists (an ancient practice involving forgotten relics and customs if there ever was one). I was paid in a couple records from their warehouse every week. That was a great way to get all the Amon Tobin and Sixtoo I could handle on my shelves but getting to talk to the employees there, all of whom were music lovers and mostly DJs really put me onto a lot of stuff. One of those things was getting into the rhythm of stopping by InBeat and DNA Records on Saint-Laurent in Montreal, specifically on Thursdays, because that's when the new records came in.

Christian Pronovost at InBeat put me onto the House and Techno I should be aware of, whereas over at DNA, (which was located in the backroom of the synth store Moog Audio where we'd drool over modular systems and effect pedals) we'd look for more left-field stuff. Through the Ninja people I was really into this still kind of genreless stuff coming in from the UK on Planet Mu, Tempa, DMZ. Grabbing the Boxcutter, Vex'd and Skream I could get out of the DNB section. The emerging world of "Dubstep" already felt mysterious, alien, almost unknowable, and then came the Burial self-titled album.

It felt like finding a fully-functional-in-touch-with-real-ghosts Ouija Board after having some decent fun with Scrabble and Monopoly. You had no idea who this person was, where the music came from, was it an alias? Was there more of it? And yet through all the mystery was work that felt so honest and connected that the anonymity was totally irrelevant. It felt like I was in direct contact with what this person was saying and feeling, almost knowing them.



Throughout this pandemic, cinema has been a lighthouse in the storm that keeps me connected to the world. As with music, so many different approaches exist and they are surely all valid, but the Real Good Stuff to me comes from work that again conveys a deep sense of empathy and connection.

One of my all-time favourite film makers, Claire Denis, somehow feels connected to this Burial-Type-Feeling to me. My first pick of hers would be the 2008 film 35 Rhums. A portrait of parenthood and coming of age as a first generation immigrant in Paris, it's a deceptively simple story with the underlying complications and layers that feel so authentically human. (Mati Diop who plays the daughter in this would later direct 2019's Atlantics, for which she became the first black female director to be nominated for the Palme d'Or!)
But on a somewhat timely note, Denis' 1999 film Beau Travail finally got a proper restoration care of Criterion in November.

Set in Djibouti in a French Legion Colony, Denis explores male fragility, colonialism, authority, the desire to be loved and valued, and much like the Légionnaires in this beautiful East African country themselves, the feeling of knowing you are not where you should be. A movie I've enjoyed so much over the years I named a party after it haha.
It's as mysterious as the

Street Halo

or

Kindred

EPs to me, revealing new layers both in the work and myself every time I watch, yet still feeling like the complete picture is somehow out of my grasp. But I'd rather come out the other side in awe of the sleight of hand than think I have it completely figured out.



Movies for a lockdown
Movies I either saw for the first time or rewatched since lockdowns began last spring that have kept me tethered to humanity. These movies all feel like decent examples of empathetic film makers that view human beings and their lives with an inquisitive lens that is deserving of care, compassion and love.



---

The last things I put out in 2020 were a track called '

Thaw

' on the

LuckyMe Advent Calendar

(which also featured tracks from HudMo, Lunice, Mssingno and others) and a remix for

Kacy Hill's Unkind

. The rolling

Spotify playlist is updated

, I threw in some of my favorite stuff from 2020 in there and some current favourites.

RIP MF DOOM. Really enjoyed reading

this 2009 profile from the one and only Ta-Nehisi Coates

in The New Yorker, as well as

this recent piece by my bud Cadence Weapon

about the villain for Passion of the Weiss.
Thanks for reading. Maybe let me know what you like or don't about this. Again if this isn't the kind of thing you want in your inbox,

click here

. If it is, please tell your friends.

It's been another weird few months since the last time I wrote.So just want to wish you and your loved ones better things this year.Check in on the people around you.

thanksx


---